Imprimer
Published on 2014-10-01, 6:40 pm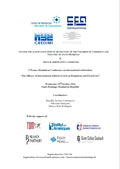 It is our pleasure to inform you that the conference on international arbitration organised by the Santo Domingo Chamber of Commerce and Industry and the French Arbitration Centre will take place on 29th October 2014 in Santo Domingo, Dominican Republic.
CONFERENCE PROGRAMME
1 - REMEDIES AGAINST AN ARBITRAL AWARD
Moderator: Nathanael Concepción, Director, Observatorio Político Dominicano.
9:00 - 9:20 Presentation of remedies procedures against awards in French and Dominican law.
Ramilka Taveras-Urzhumova, Lawyer at the bars of the Dominican Republic and Paris.
9:20 - 9:50 The extent of monitoring of awards in French law with regard to basic public policy.
Sylvain Bollée, Professor at University Paris 1, Panthéon Sorbonne.
9:50 -10:20 Monitoring of awards by the Dominican judiciary.
Edynson Alarcón Polanco, Magistrate for the First Civil and Commercial Chamber of the Appeals Court of Distrito Nacional.
10:20 - 10:45 Questions / Break
10:45 - 11:30 Waiver of action for annulment in French and Dominican law: is it compatible with the right to access to justice?
Ivan Urzhumov, Paris and Moscow bars/ Samuel Arias, Magistrate, member of the Consejo del Poder Judicial.
11:30- 12:00 Round table: the pros and cons of the reduction in judicial monitoring of awards, with regard to internal and international arbitration.
Sylvain Bollée, Edynson Alarcón Polanco, Samuel Arias.
12:00 - 1:45 Lunch
2 - THE ENFORCEMENT OF ARBITRAL AWARDS
Moderator: Leonel Melo, Lawyer at the bar of the Dominican Republic.
1:45 - 2:10 Conditions of granting the exequatur procedure: the New York and Panama Conventions.
Jacqueline Velázquez, Professor at Católica Madre & Maestra University.
2:10 - 2:40 The efficacy of foreign awards in French law: the enforcement of an annulled award at the seat of arbitration.
Thomas Bevilacqua, Paris and New Yorkbars Lawyer.
2:40 - 3:10 The efficacy of foreign awards in the Dominican Republic: the practice of Dominican tribunals.
Fabiola Medina Garnes, Lawyer at the bar of the Dominican Republic.
3:10 - 3:40 Mechanisms for remedies procedures against a State which refuses to execute a foreign commercial arbitral award: investment arbitration as remedy.
Sébastien Manciaux, Senior Lecturer at the University of Bourgogne.
3:40 - 4:10 Questions / Break
3 - PARTICULARITIES OF AWARDS RENDERED AGAINST A STATE: REMEDIES PROCEDURES AND ENFORCEMENT
Moderator: Ismael Compres, President of the Centre for Alternative Dispute Resolution of the Chamber of Commerce and Industry of Santiago, Dominican Republic
4:10 - 4:20 Introduction to remedies procedures and award enforcement concerning investment arbitration
Sébastien Manciaux, Lecturer at the University of Bourgogne.
4:20 - 4:40 The experience of the Dominican Republic concerning the enforcement of awards implicating the State.
Leidilyn Contreras, Consultoría Jurídica del Poder Ejecutivo.
4:40 - 5:10 Recent developments concerning immunity from enforcement against States in French and comparative law.
Jacques-Alexandre Genet, Lawyer at the Paris bar.
5:10 - 5:30 Round table: judicial monitoring of commercial and investment arbitral awards: is there a difference? Sébastien Manciaux, Jacques-Alexandre Genet, Leidilyn Contreras.
5:30 Conference conclusion
Marcos Peña Rodríguez, Lawyer at the bar of the Dominican Republic.
We wish this seminar to be an additional reminder of the very strict obligations of the arbitrator to be independent, impartial, and to reveal in real time all transactions conducted by their law firms with the parties involved.
In fact, when the States of the Greater Caribbean working with support of the European Union's INTERREG program to implement the OHADAC program, inspired by the success of OHADA in Africa, it is extremely important to remember the obligations of independence, impartiality, and transparency that are required of arbitrators at all times. The arbitrator, no matter their reputation, must be independent and reveal any conflicts of interest that affect him/her or their law firms. This obligation of transparency is required of the arbitrator and no one else. This is the very essence of arbitration, its reason for being.
For further information, please contact:
Ramilka Taveras-Urzhumova
Lawyer to the Bar of the Dominican Republic and Paris
BRANDI PARTNERS
Email: rtaveras@brandi-partners.com
PARIS | SAO PAULO | RIO DE JANEIRO | SALVADOR | BELO HORIZONTE | LISBON | ISTANBUL | DUBAI | MILAN | MOSCOW
13, rue du Docteur Lancereaux
75008 Paris - FRANCE
Email : rtaveras@brandi-partners.com
T. : +33 1 53 00 22 22 | M. : +33 6 98 54 79 63 | Fax. : +33 1 53 00 22 20
Imprimer