Imprimer
Published on 2012-12-13, 9:47 am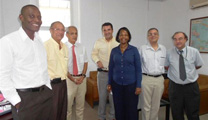 An important delegation led by Jean REALE and Dr. Hugo RAMIREZ RISK, respectively OHADAC project driver and ACP Legal, Dominican Chapter President, with the participation of Dr. Jean-Alain PENDA, -an OHADA and OHADAC expert-, of HE Keats COMPTON, former Consul General of Saint Lucia in the French Departments of America and President of ACP Legal OECS(*), of Dr. Lydia ELLIOTT, lawyer, legal adviser of the OECS and CARICOM and ACP Legal Saint Lucia representative(*), and Odile EYHERAGUIBEL, financial advisor, visited Martinique and St. Lucia.
The delegation presented at Morne Fortune, Castries, home of the Permanent Secretariat of the Organization of Eastern Caribbean States, a guidance document called "Building the Greater Caribbean legal framework", soon assigned under the European Union Economic Partnership Agreement (EPA) with Cariforum, to Mrs. Sylna AMBRIS-DICK (Saint Vincent and the Grenadines), Legislative Drafter, OECS Secretariat, to Mrs. Turkessa ANTOINE BENJAMIN (St. Lucia), Legal Officer, OECS Secretariat, to Ms. Debra BLACKMAN (Dominica), Programme Officer, Regional Integration Unit, and Mr. Kurt THOMAS (St. Lucia), Clerk of the OECS Assembly, OECS Secretariat.
Dr. RAMIREZ RISK invited the OECS to participate in the project from its conception and contribute with their expertise in the field of legal integration, the most advanced of the Caribbean basin, with the Eastern Caribbean Supreme Court. A second workshop is scheduled in January with the Director General Dr. Len ISHMAEL.
The ACP Legal delegation was also received by Minister of Legal Affairs, Home Affairs and National Security of Saint Lucia, Sen. Hon. Victor Phillip LACOBINIERE, who stressed the importance of joint cooperation between the Ministries of Justice and Commerce.
HE the Ambassador of France to the OECS, Michel PROM, connoisseur of the OHADA, confirmed to the delegation his country's support to the OHADAC, current initiative of the French Overseas Minister, SE Victorin LUREL, of Guadeloupe. The delegation took the opportunity of the journey to reunite in Fort de France, with Professor René KIMINOU, President of ACP Legal Martinique.
For more information on the OECS: www.oecs.org
Source: ACP Legal
Imprimer